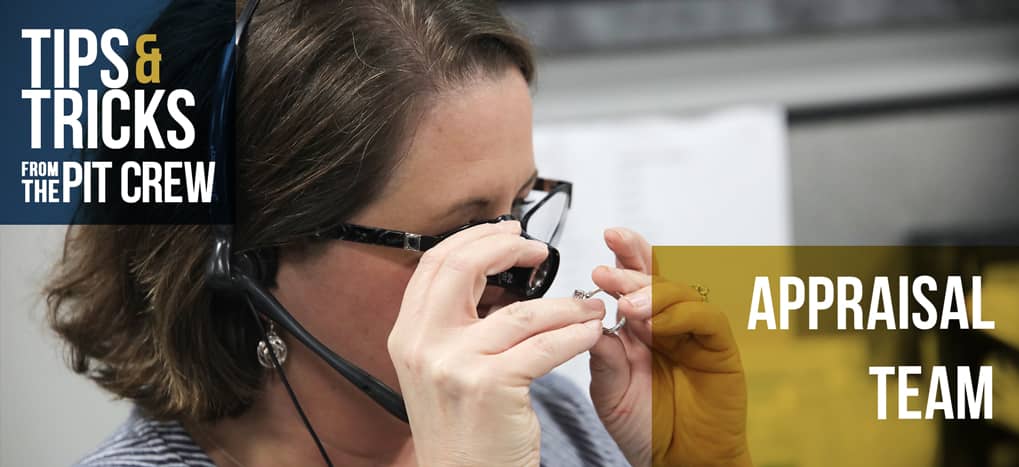 When it comes to owning fine jewelry, it's essential to get an appraisal. Each appraisal details a full description of the piece, the value and documentation of ownership. Every member of our Appraisal Team has a strong educational background and extensive experience in grading and assigning correct market value. In fact, our staff is comprised of Graduate Gemologists of the Gemological Institute of America (GIA), Certified Senior Members of the National Association of Jewelry Appraisers (NAJA), faceters and bench jewelers. So, we thought we'd share some of our combined knowledge with you in this special post about appraisals.
Personalization
At Jewel Craft, we put your name and business logo on every appraisal. Additionally, we will also include the customer's name on the documentation. For best results, please include correct details when requesting an appraisal. For example, the customer's legal name might be Michelle, but they go by "Shelly." These details are extremely important to the legitimacy of appraisal documents.
Appraisal History
Ask your customer if they've had any jewelry appraisals done on their piece. Past appraisals will not influence our reports, however, it's always beneficial to compare our report with prior appraisals. That way, we can ensure accuracy and oftentimes make improvements. Our team always completes our report before comparing it with a past appraisal to ensure we are being impartial with our review.
Diamond Certification
Diamond grading reports help provide an accurate, unbiased and trustworthy account on the diamond's quality. From the diamond color scale to cut, if your customer has a grading report, it will help our team when conducting the appraisal. Please be sure to also indicate if the main center diamond was sold from your store or another retailer.
Accurate Appraisals
Faultless appraisals are extremely important if your customer's jewelry is ever damaged, stolen or lost. We recommend updating appraisals every 3-5 years. An outdated appraisal can result in your customer being under-insured and cost them thousands.
Protecting Your Possessions
Many people don't recognize how crucial appraisals are. At Jewel Craft, we take every measure to ensure accurate reports protect you and your customer. If you ever need help with your backlog of appraisals, give us a call. We are always here to assist.