If you haven't noticed, Jewel-Craft Inc (JCI) has hopped on the social train! We hope you join us for useful info, some fun and, overall, to be social! Social platforms give us the opportunity to connect, stay in touch and interact with our customers. We want to give our clients, customers, and followers an inside glimpse of what goes on behind the scenes at JCI. We are a fun group and we love what we do, so we want to share it with the world, but it doesn't stop there. We want to hear from you! What do you want to see? Behind the scenes content? How about staff get-togethers or our day-to-day processes? Let us know what content you want to see and follow us on your favorite social media platform. Currently, we are on Facebook, Instagram and LinkedIn. We post a variety of content including pics from our fun events, blogs, job posts, video content and more. If any of that excites you, check out our links below!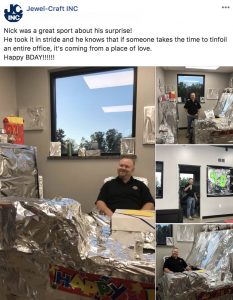 So, what are some things you can expect to see on our social platforms? Recently, we've posted about Nick's birthday and the hilarious prank that the JCI staff had planned! Somebody got "foiled" along with everything in his office – see the pic above! You might say, "we did it for the gram." Then, we wanted to highlight and thank the JCI road warriors, for all of their hard work at all the trade shows and places they've been throughout the summer. We even wrote a blog about their adventures! Check out their journey on our Road Warrior's Blog! Thank you to Stef and Ross, for documenting your road trip adventures to share with the world!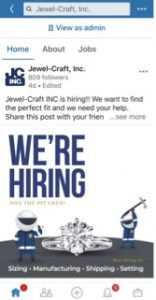 .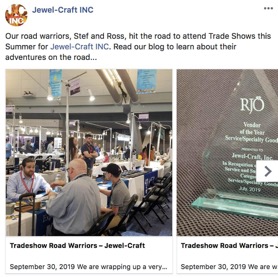 October is always a busy and exciting month for us at JCI. We have a big push for "JC Cares", a foundation based around raising awareness and donations for Jeweler's for Children (JFC). We have fun contests, raffles and games, all in hopes to raise money for JFC. It's always fun to showcase "JC Cares" on social media and see all of the incredible interactions, reactions and comments. We even have other vendors and groups post and tag us to help promote our efforts in the month of October! Overall, we have raised a record amount this year and had so much fun. We are so thankful to everyone that helped us along the way!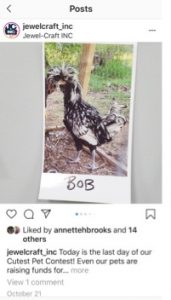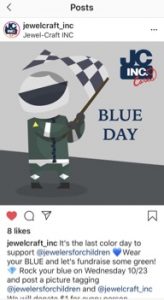 Visit any of our social pages, click on the links below to follow our content….