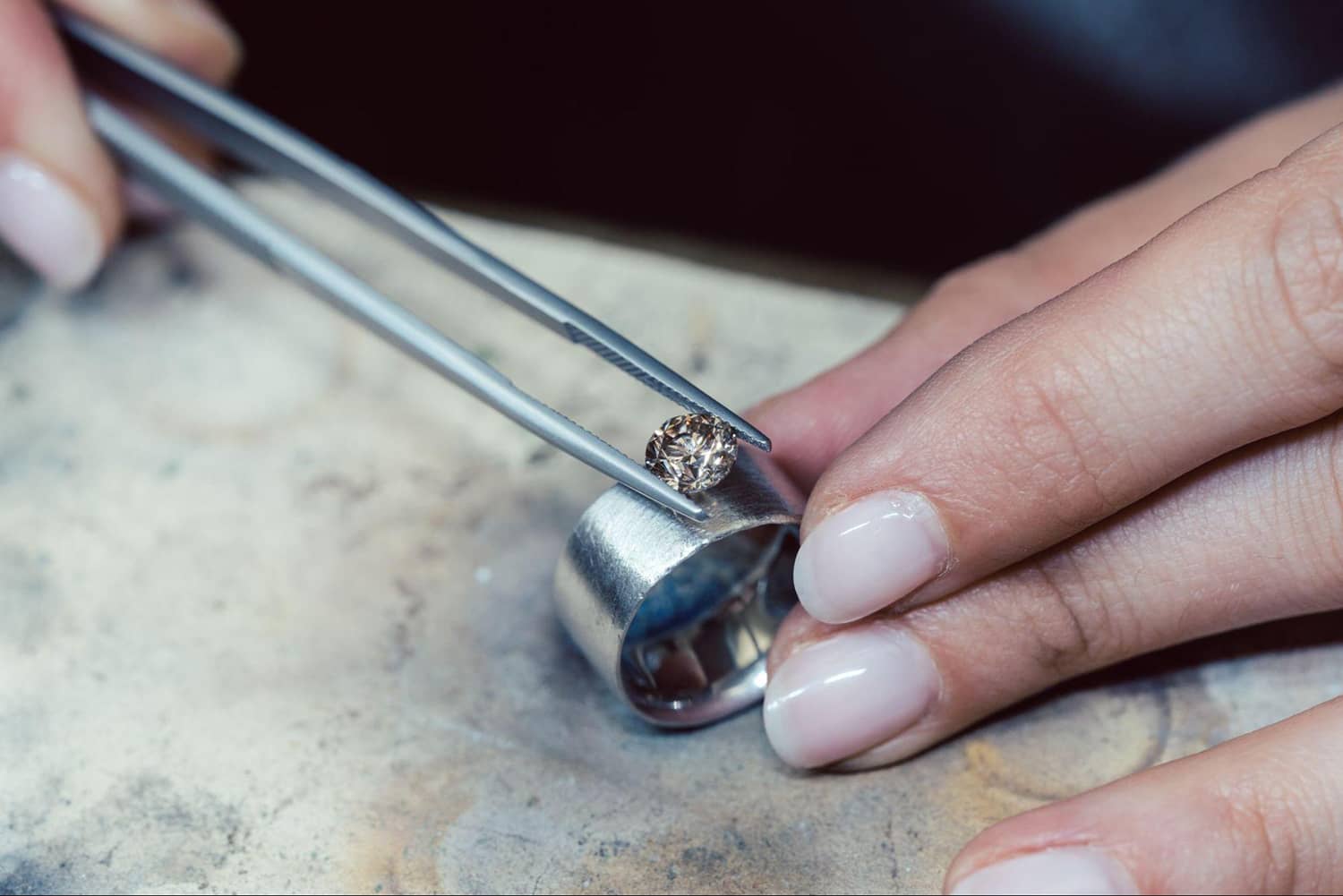 When you select a gorgeous diamond engagement ring, you gasp with joy as light shines radiantly through the stone. You don't necessarily stop to admire the curved prongs of the setting that hold the gem in place. There's a good reason for this. Part of the setting's purpose is to showcase the remarkable beauty of the dazzling stones without drawing attention to itself.
The art of stone setting is all about making gemstones look their luminous best while ensuring they are also securely fastened. This should be done in the least invasive way, using the minimum amount of metal necessary. The stone setter must also take into account durability, creating a setting that will protect the stone while withstanding the wear and tear of everyday life.
When crafting an engagement ring, for instance, a stone setter has many methods to select. Some of these options enhance a single, brilliant gem, while others group stones in stunning clusters. Let's take a look at three of the most popular stone setting styles used in rings today.
The Prominent Prong
Originally crafted in the late 19th century, the prong setting features four to six claws, or prongs, which secure a gemstone in place. This seemingly simple setting dramatically changed how jewelers featured their stones. That's because the minimalistic prong setting makes a stone appear to float magically above the finger. This setting also allows the maximum amount of light to enter a gemstone from all angles, creating a luminous effect like no other. In the modern day, the prong setting is the most popular for rings because it is perhaps the most effective at showing off a stone's full brilliance while also being unnoticeable.
The Brilliant Bezel
The bezel setting goes as far back as ancient Egypt and yet maintains a contemporary edge. In a bezel, a thin metal band encircles the stone and holds it in place. Bezel settings feature more metal than the prong and often require more skill to set. The advantage of a bezel is that it is one of the most secure settings. Bezels can also be crafted to fit pretty much any shape of gemstone, making them exceedingly versatile. Plus, you don't necessarily lose sparkle with a bezel. A well-cut jewel will shine brightly in this classic setting.
The Pleasing Pavé
Designed to deliver incomparable radiance to a ring, the pavé setting has been in use since the 1700's. With this setting, small gemstones are placed in the shank of a ring and held in place with tiny, barely noticeable prongs. The final effect is a stunning, shimmering line of "paved" stones. This is where the setting's name comes from, in fact. "Pavé" means "to pave" in French. This setting is very labor intensive, requiring a master setter's patient touch. The strongest aspect of the pavé setting is how it can add extra luster to an already dazzling center-stone. However, pavé-set gemstones are equally breathtaking in their own right.
Quality That Is Set in Stone
No matter how a stone is set, it's an art that takes craftsmanship, knowledge and diligence. And at Jewel-Craft, we love helping each gemstone shine its brightest, no matter the setting. Each of our passionate and expert stone setters specializes in a specific type of setting, ensuring that our customers receive only the highest quality work in the industry. Most of all, it's an incredible honor and pleasure to take part in the illustrious art of stone-setting every single day.