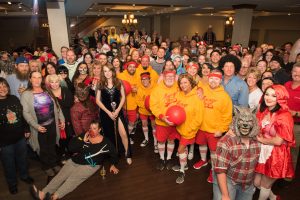 Jewel-Craft celebrated 2018 at a fun-filled party with dancing, employee awards, costumes, and…dodgeballs!? This year we decided to throw our holiday party early, during Halloween time. The factory gets busy during the November and December Holiday months, so we thought October would be the best time to celebrate. The entire staff was there wearing creative costumes. A large group even dressed as the "Average Joe's" team from the movie, "Dodgeball."
At Jewel-Craft, our staff is our family. We are so humbled to have such an amazing team that shows up every day ready to work, and play, hard. Two associates celebrated their thirtieth year with JC. Thirty years working with Jewel-Craft is a great achievement and we love to celebrate these milestones! This party was just one of the many ways we say, "Thank You" to our staff for everything they do each year.
During the party, we raffled off cash prizes to over twenty associates, based on tenure, to show them how much we appreciate their dedication to Jewel-Craft! We also held a costume contest for the entire group and announced winners for three categories. The winner of the best independent costume was Santa. The best couples costume was Peffercorn and Squints from the movie, "Sandlot." Lastly, the best group costume was, surprise surprise…the Average Joe's! Overall, a great time was had by all with food, fun, laughs and some wild costumes. Thank you to everyone that made this year's staff party possible and thank you to the entire staff at Jewel-Craft, we appreciate your all of your hard work!
Cheers to 2018 and all the possibilities 2019 will bring!